Dragon of acute of AMD new fund is embedded series SoC R1000 appears on this quarter to face global put on sale
March 27, 2019
Yesterday, AMD is held embedded taste a news briefing newly, roll out dragon of acute of new fund AMD embedded R1000 series product, this is afterwards AMD acute dragon is embedded last year after V1000 is released, its are embedded expand of product line of a group of people of same interest further.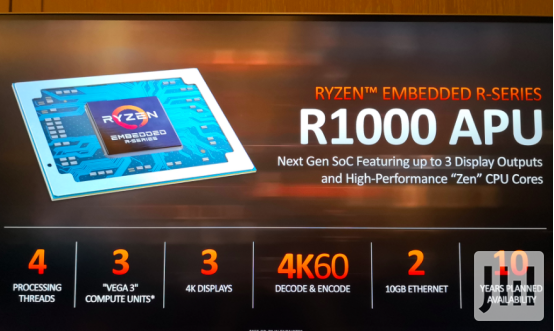 AMD acute dragon is embedded R1000 SoC has double nucleus the 4K of low power comsumption of fan of high-powered, calm shows 4 lines Cheng solution and taller safe character. Will wide application shows at the number, the domain such as end of join of high-powered margin calculation, network, emaciated client. Current, the client such as Advantech, ASRock Industrial, IBASE, Netronome and Quixant has begun to be in its product use acute dragon embedded R1000, r1000 series product will face global ODM and OEM put on sale at this quarter.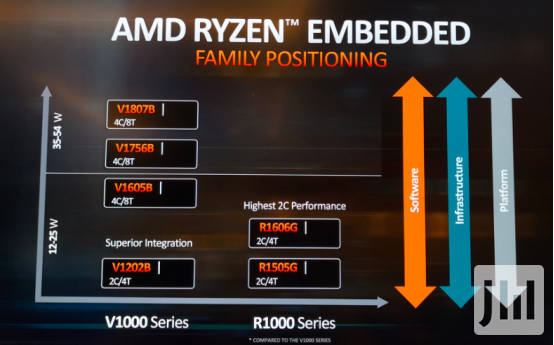 Current, AMD is embedded range of products includes EPYC(clouds dragon) , series of acute dragon, G, R, the R1000 subject Yu Ruilong that rolls out this is embedded series, current, already rolled out acute dragon embedded V1000 series (TDP: 35-54W) , and acute dragon is embedded the TDP of R1000 series is in 12-25W. The R1000 series product that releases this includes R1606G and R1505G, every tile function relatively SoC of series of previous generation AMD R promotes 3 times.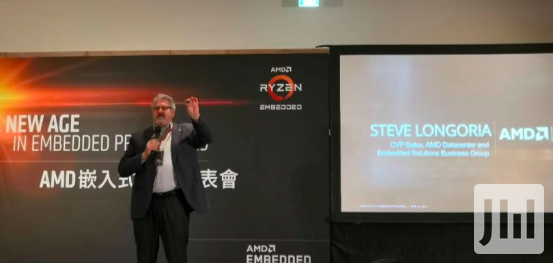 According to whole world of AMD company solution sale vice-president Steve Longoria introduces, the acute dragon that its face lower power comsumption is embedded G series product also is in the program. Because dragon of this AMD acute is embedded,range of products already was formed enclothe whole product line set.
As we have learned, acute dragon is embedded the "Zen that range of products will innovate"CPU and "Vega"The powerful function of GPU framework blends in R series product in. Acute dragon is embedded in the R series processor that R1000 adds multi-line Cheng performance AMD first, AMD acute dragon is embedded R1000 will accede in the round acute dragon is embedded the outstanding performance of V1000, rich multimedia and advanced safety are characteristic.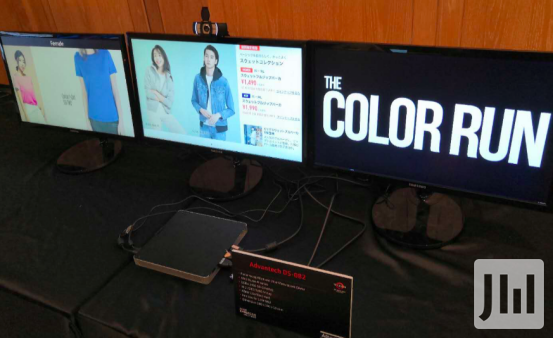 AMD acute dragon is embedded R1000 can with highest 60 frame / the speed support of the second amounts to 3 4K to show equipment, offer H.265 to make up decipher at the same time (10b) and VP9 decipher ability. This makes OEM and ODM can make fascinating visual experience.
In addition, acute dragon is embedded R1000 still acceded in the round AMD is embedded the most advanced safety of range of products is characteristic, include " security among them authentic root Secure Root Of Trust" and " safety run technical Secure Run Technology" , no matter be to receive margin calculation network,this invites a client still is moving number indication facilities, can enable safe solution.
In news briefing spot, AMD hand in hand the partner was revealed be based on acute dragon embedded the applied case of R1000 series product.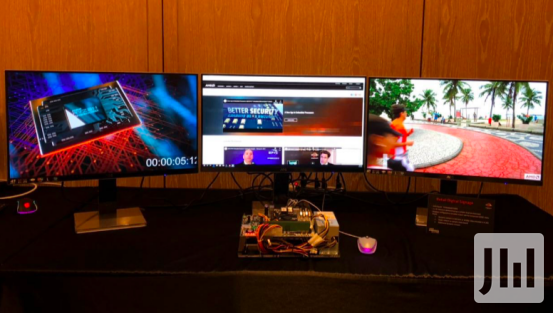 Look as the number board wait for those who face sale technology trade of the client to get army enterprise, STRATACACHE company uses AMD acute dragon embedded R1000 He Ruilong is embedded V1000 processor comes the new fund of drive support STRATACACHE, Scala, X2O Media and range of products of Real Digital Media outputs a number to look more board player. These players used acute dragon embedded the advantage of platform, and its superior GPU performance realized have the aid of outstanding 4K vision experience.
Dragon of acute of use AMD of high-powered intelligence server and choice of Netronome of provider of memory network solution is embedded R1000 piece on the system makes more advanced network solution, safety and brim cloud calculation.
Quixant is to be design of global game line of business technically to create the whole world of system of computer of most advanced PC and monitor lead company, dragon of embarking AMD acute was revealed in spot Quixant embedded R1000 piece on QXi-7000 LITE of game terminal product. This company whole world sells chief inspector John Malin to express: " regards AMD acute as dragon embedded R1000 piece on main product of the system releases associate, we are very glad again will high-powered embedded processing technology brings game the industry. Our client is having very high demand with indication quality to graphical function, AMD acute dragon is embedded the visual experience that processor lets us be able to achieve your client satisfaction. Now, use dragon of acute of new fund AMD embedded R1000 piece on system, while we are continueing to provide this kind of experience, price of remarkable promotion sex is compared, let everybody can be benefited thereby. "
Additional as we have learned, AMD acute dragon is embedded R1000 will face global ODM and OEM put on sale at this quarter, already got the support of the company of numerous soft hardware such as Advantech, Alphainfo, ASRock Industrial, Axiomtech, DFI, IBase, Kontron, MEN, Mentor, Sapphire, ZSpace at present.
In addition, AMD acute dragon is embedded R1000 SoC still supports Mentor®Embedded Linux®Flex operating system (already appeared on the market) , this continued two companies' good cooperation concerns.